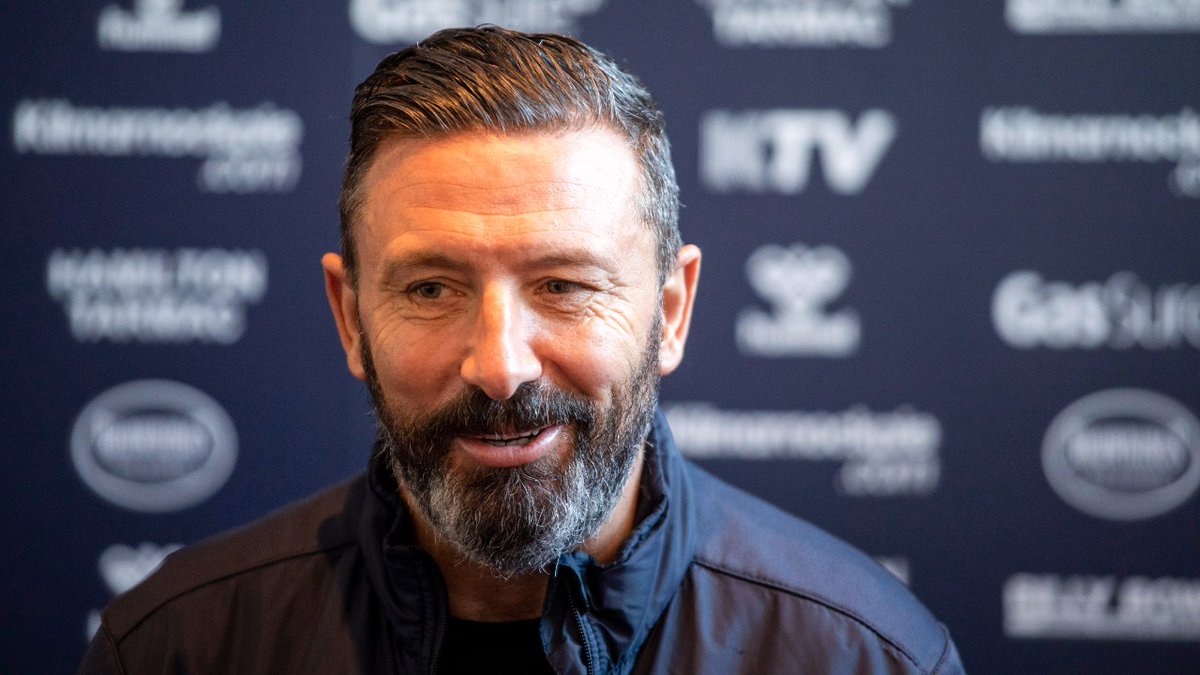 🩹 Fitness update 🤝 Transfer activity 🚍 Ross County (A) The boss speaks ahead of our trip to Dingwall.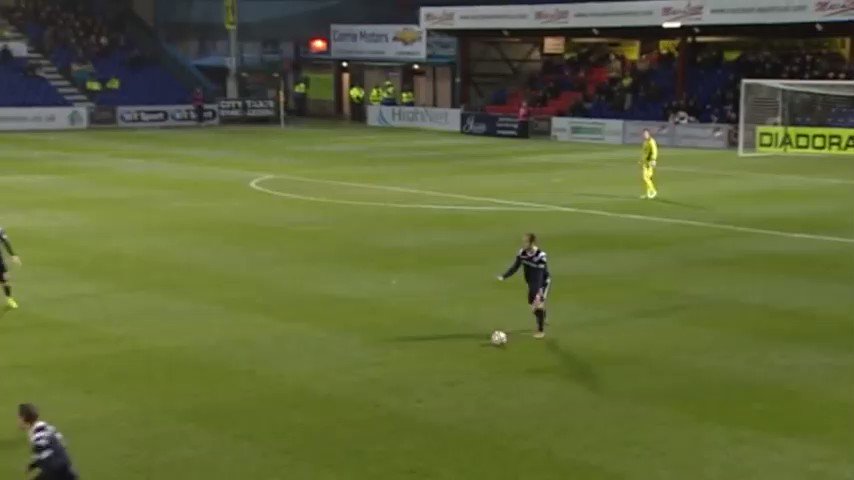 That one-touch finish 🤌 Boydie scored the winner as we earned a crucial 2-1 victory against Ross County in December 2013. It's 'destination Dingwall' again on Saturday 👉
bit.ly/3Dbm6cb
We're back under the lights next week 💡 Tickets for our cinch Premiership match against Dundee United are now on sale ⤵️
"However fortune kick the ba', Has aye some cause to smile."
#BurnsNight
is the perfect occasion to pull on your Killie tartan polo 🏴󠁧󠁢󠁳󠁣󠁴󠁿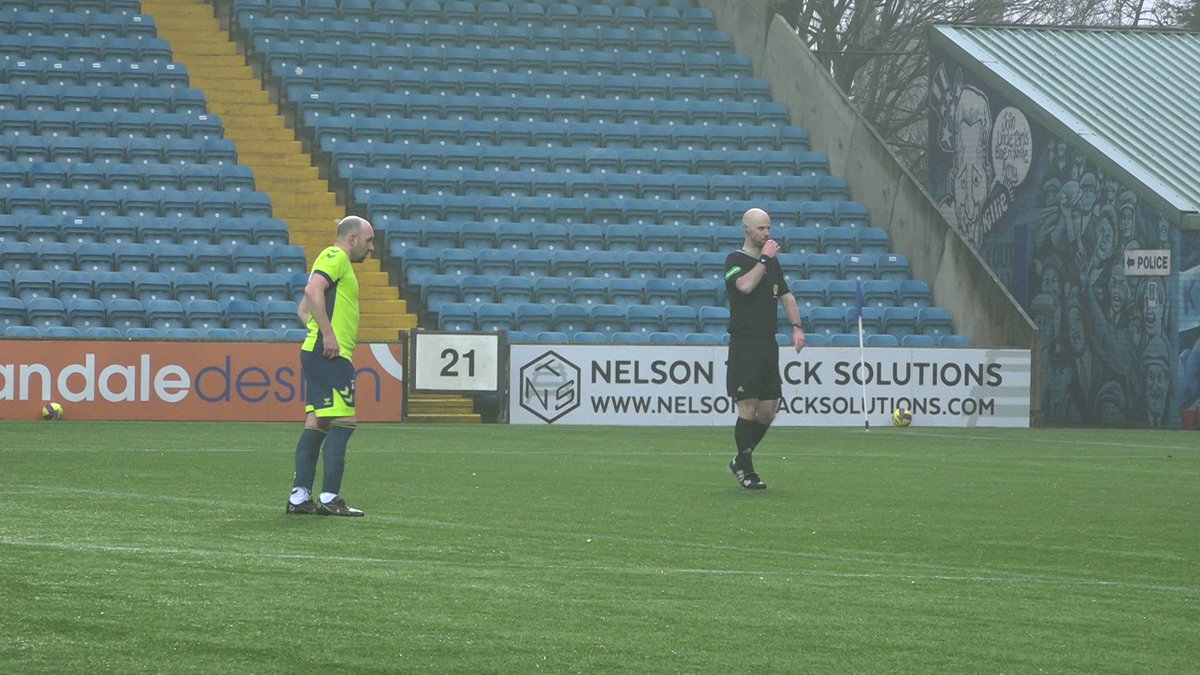 Young 'keeper Aiden Glavin made three superb saves as we secured a bonus point following a draw against Ayr United in the SPFL Reserve Cup this afternoon 🧤 📝Match summary:
bit.ly/3HCWfgd
Bonus point secured ✅ Sanders, Chahal & Watson find the net, while Glavin makes three superb saves, as Killie win the shootout 3-1! There's only one reserve team in Ayrshire 😉
twitter.com/KilmarnockFC/s…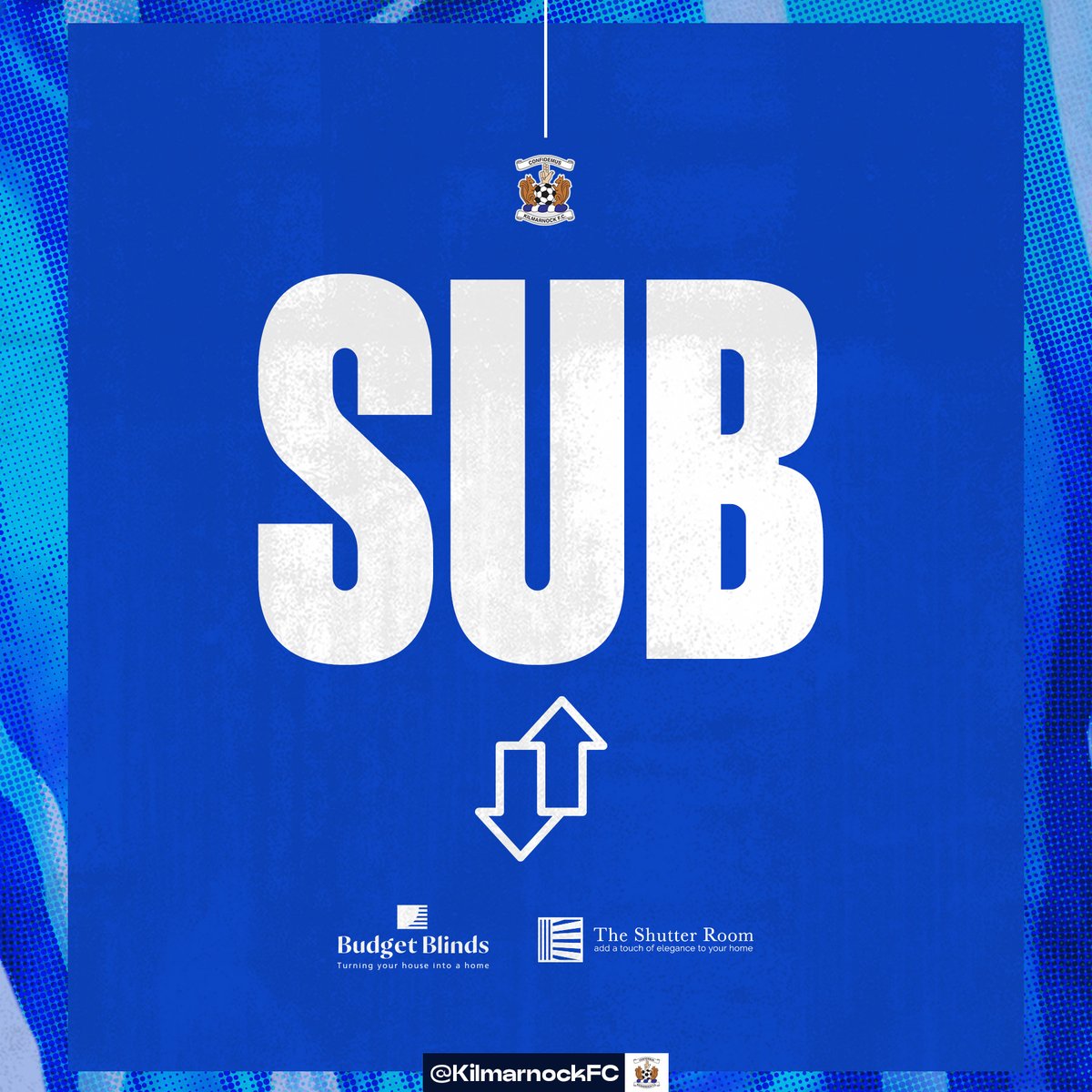 90' | Killie sub 🔄 Woods picks up an injury and is replaced by Glavin for the final moments of the game. 🔵 0-0 ⚫️
89' | Warnock scuffs the post after we're awarded a free-kick 25 yards from goal. Close 🤏 🔵 0-0 ⚫️
85' | Match update ⏱️ • Watson hits the target via a free-kick from 30 yards – held by the keeper. • Kennedy & Chahal replace Lyons & Brown 🔄 🔵 0-0 ⚫️
75' | Match update ⏱️ • Leslie concludes a fine run by picking out Warnock at the back post. He sends his shot over the bar. • We're enjoying most of the possession at the moment, but without working the Ayr keeper. 🔵 0-0 ⚫️
65' | Match update ⏱️ • Woods pulls off a strong save following a header from close range. • Warnock breaks through on goal and is fouled on the edge of the area. A red card is shown to the chasing defender – Ayr down to 10 men 🟥 🔵 0-0 ⚫️
60' | Match update ⏱️ • A powerful David Watson header flies over the target; our closest attempt of the half. • Both teams have shared possession in the opening stages of the second 45', with neither of the keepers called back into action yet. 🔵 0-0 ⚫️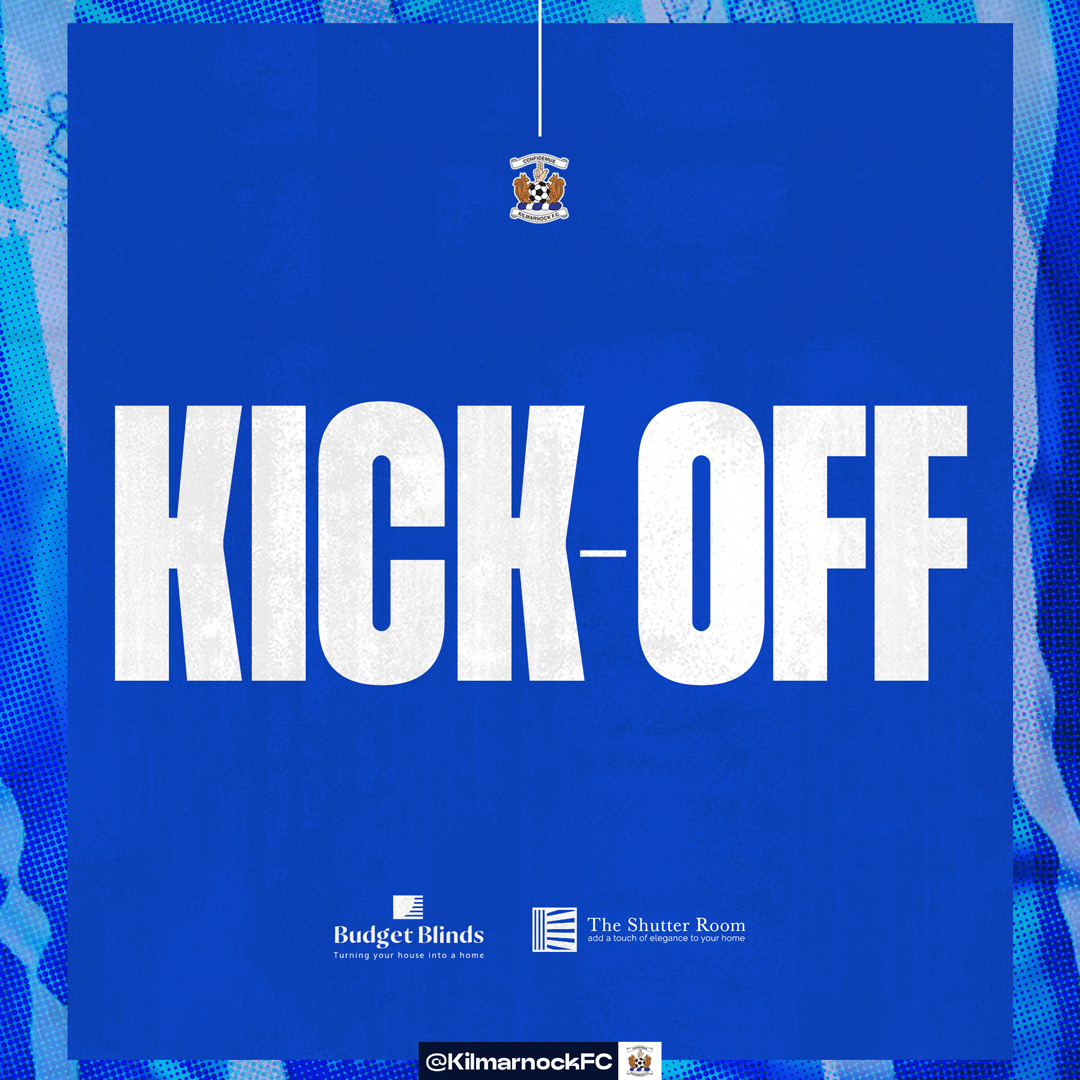 45' | Kick-off ⏱️ We're back under way and playing towards the Moffat Stand. 'MON THE KILLIE! 🔵 0-0 ⚫️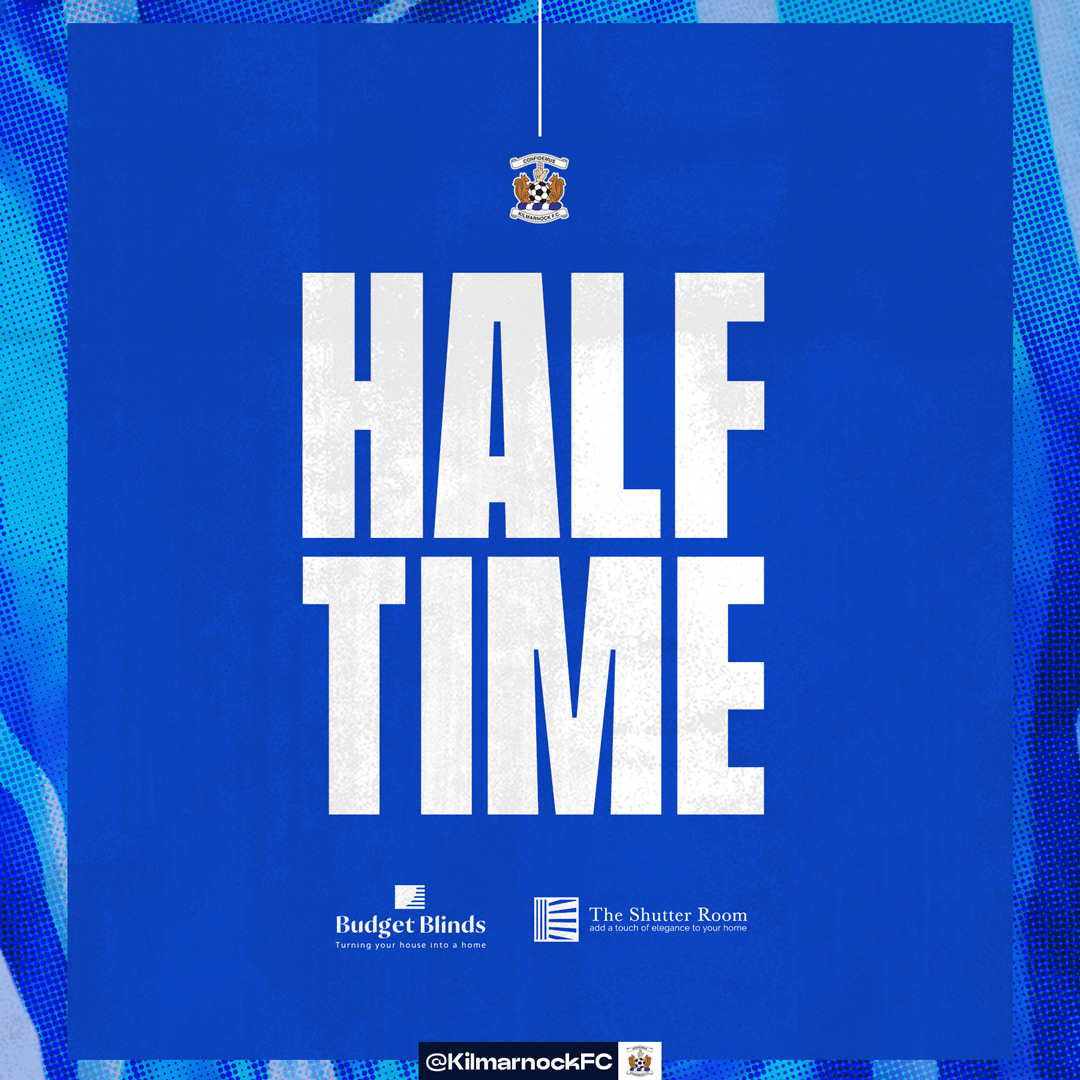 Level at the break ⚖️ It remains goalless despite a lively first half. 🔵 0-0 ⚫️
40' | Match update ⏱️ • Warnock skips into the penalty area and is denied a goal by a last-ditch tackle inside the six-yard box. • A lofted effort has drawn an impressive save from Woods at the opposite end of the park. 🔵 0-0 ⚫️
35' | Match update ⏱️ • Wales beats his marker to win a header which rises just over the crossbar. • The quick feet of Aaron Brown on the left wing has caused Ayr issues over the past 10 minutes. 🔵 0-0 ⚫️
20' | Match update ⏱️ • Wales forces a save from the Ayr No.1 before Warnock's rebound is blocked on the line by a covering defender. • An even opening 20 minutes with both sides showing that they can quickly progress into the final third. 🔵 0-0 ⚫️
10' | Match update ⏱️ • Woods is the first keeper to be called into action, after a strike from 25 yards which he comfortably turned round the post. • Wales' attempt at an overhead kick is the closest we've come to hitting the target so far. 🔵 0-0 ⚫️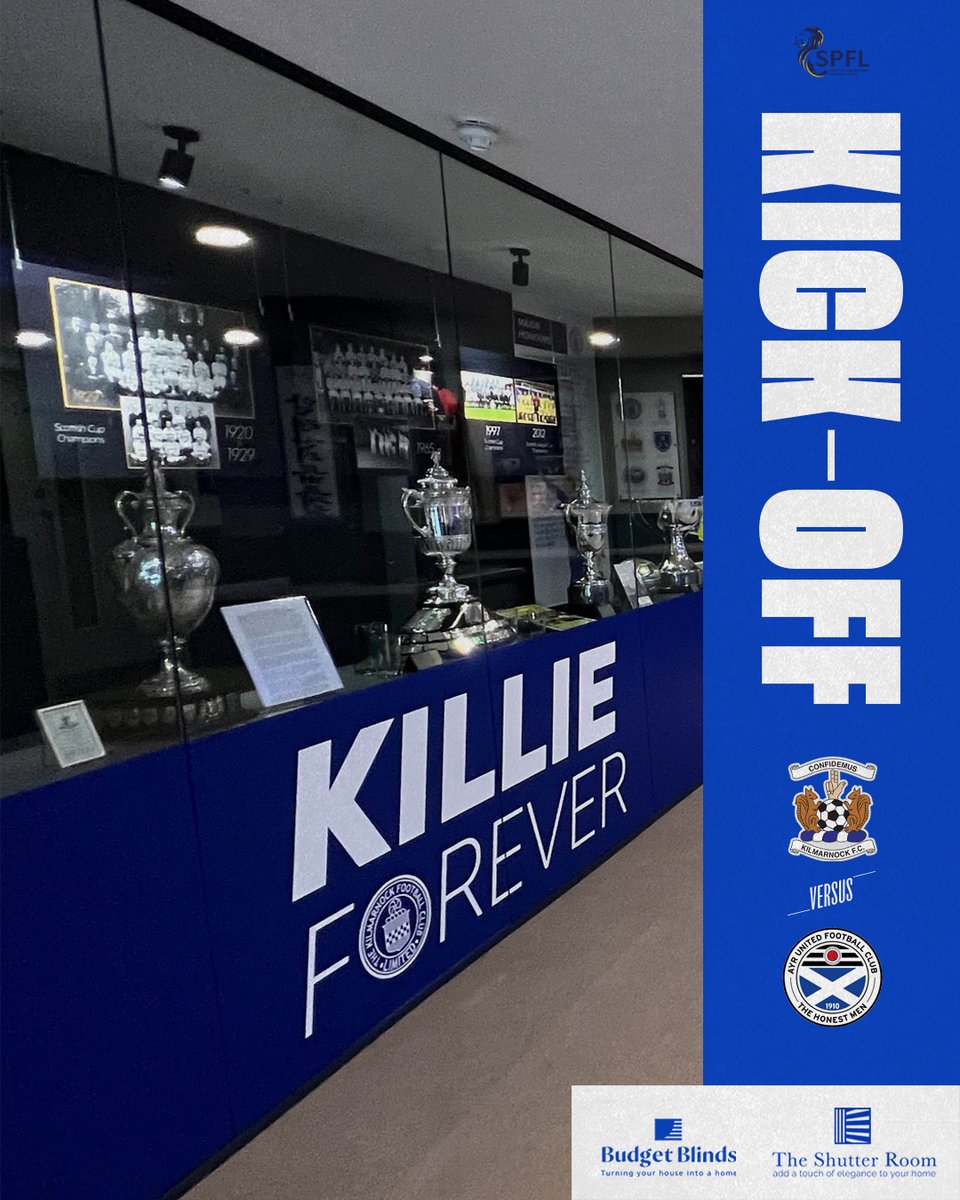 1' | Kick-off at Rugby Park ⏱️ We're in the famous blue & white stripes this afternoon: Ayr wearing the less famous navy & green. '𝗠𝗢𝗡 𝗧𝗛𝗘 𝗞𝗜𝗟𝗟𝗜𝗘
#SPFLReserveCup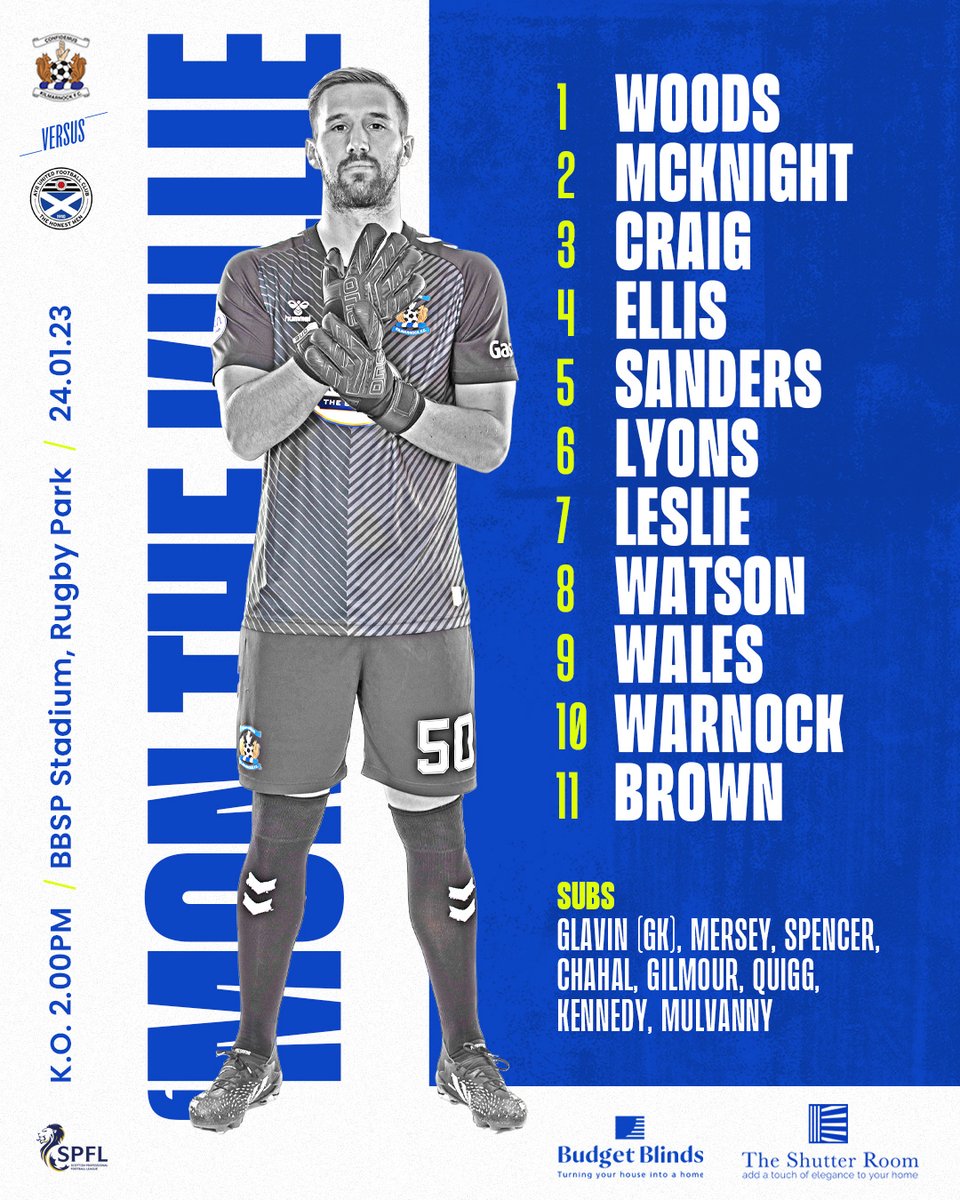 Your Killie reserve team for this afternoon's Ayrshire derby: 🧤 Woods in goal 🔙 Sanders at the back 🔝 Wales up front 🎟️ FREE entry to the Moffat Stand 🎟️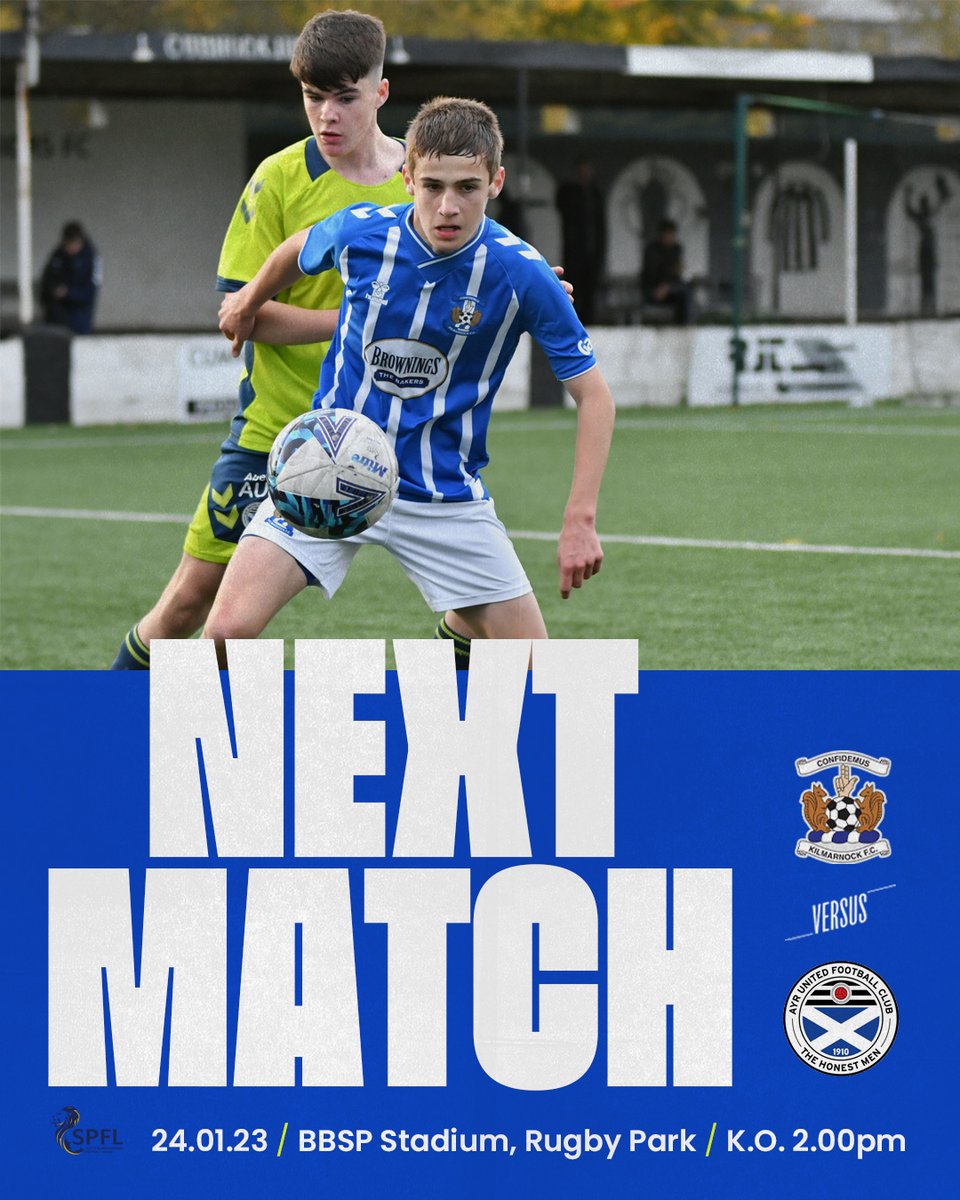 SPFL Reserve Cup 📈 Remember that there's an Ayrshire derby at Rugby Park this afternoon 👊 🎟️ Free entry to the Moffat Stand 🎟️
Next destination: Dingwall 🚍 Tickets are on sale for our cinch Premiership clash against Ross County 🎟️
#SuperKillieAway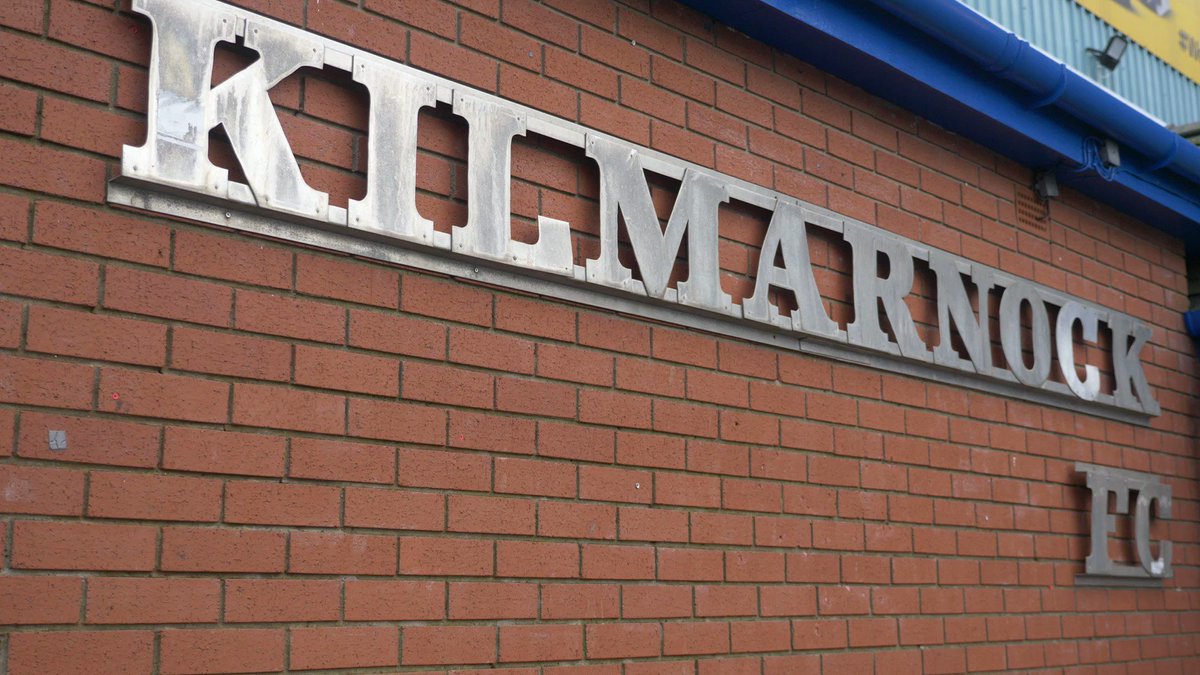 KA1 CAM 🎥 In the end, we got the job done 🤝 An alternative view of our
@ScottishCup
Fourth Round tie ⤵️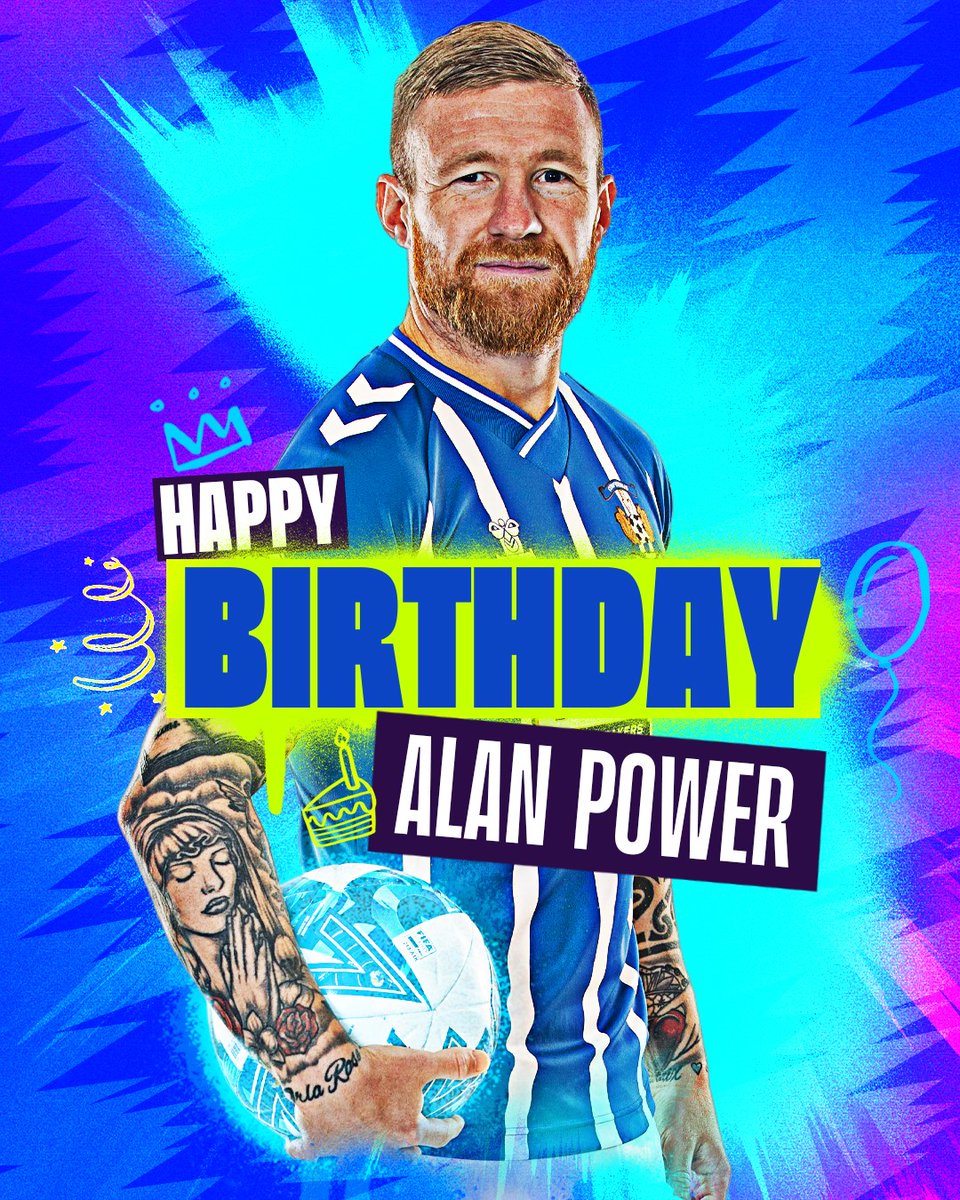 Happy Birthday, captain 🫡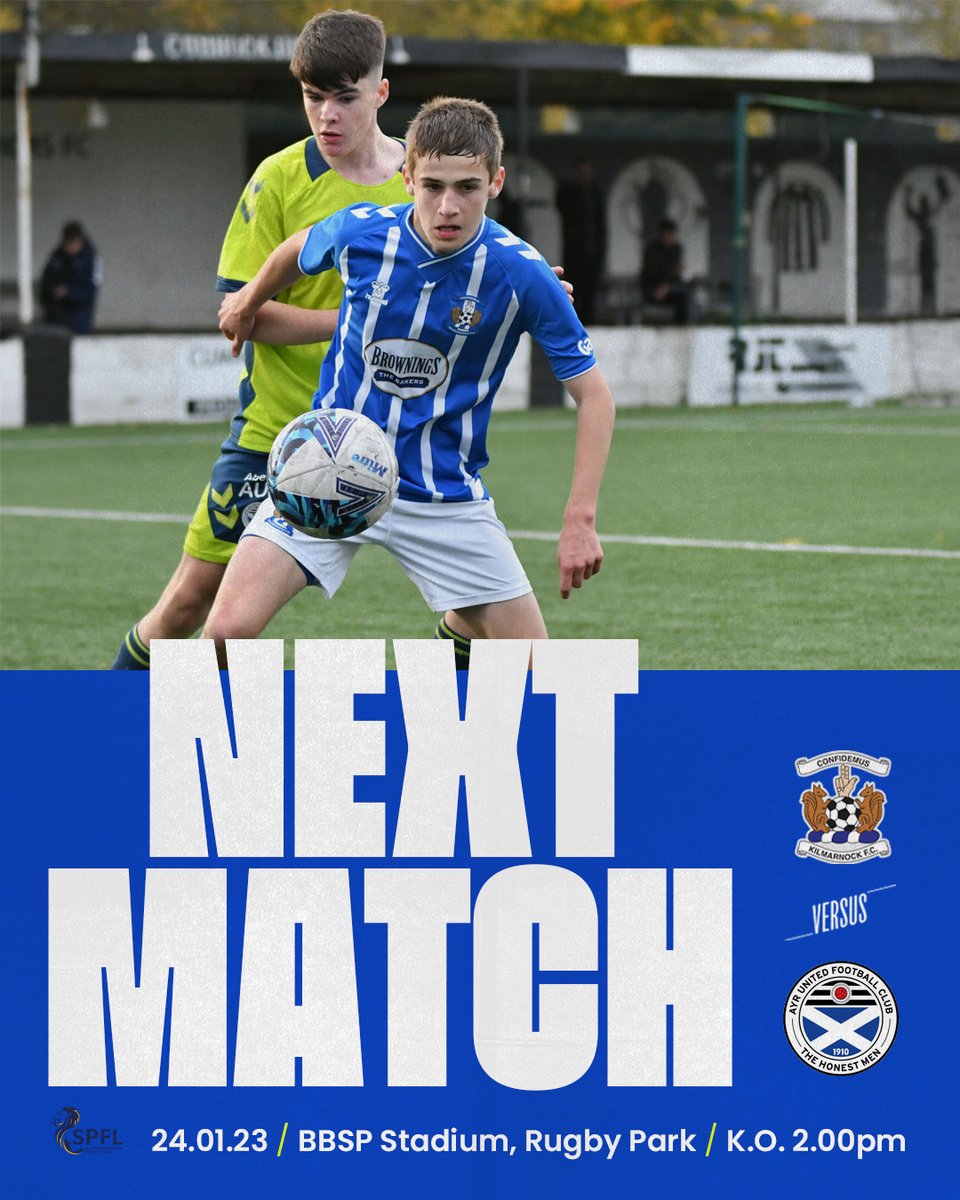 SPFL Reserve Cup 📈 We'll take on Ayr United in a 'reserve derby' at Rugby Park tomorrow afternoon. ➡️ Entry details:
bit.ly/3HpUiDK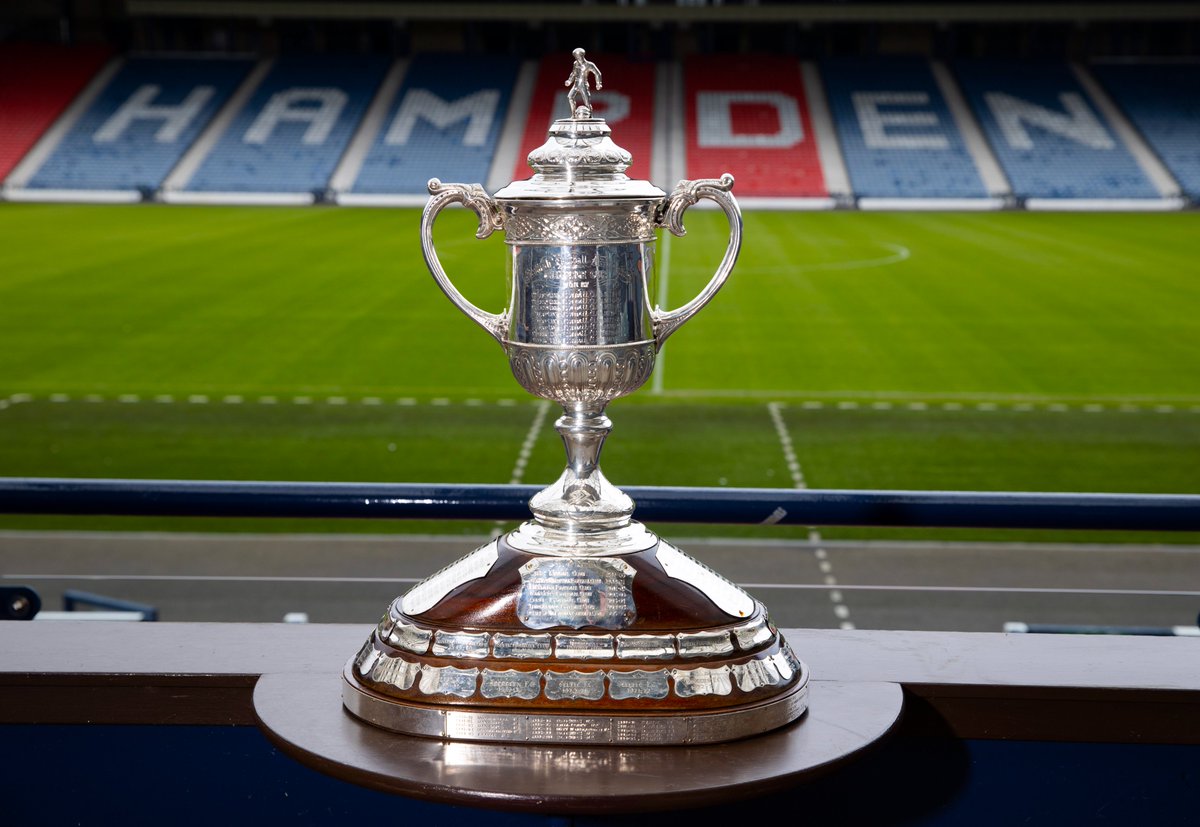 We've been drawn away to Dundee United in the Fifth Round of the
@ScottishCup
🏆 Ties are scheduled to be played on the weekend of Saturday, 11 February. Full details will be confirmed in due course.