The idiots guide to SPFL Streaming
The 20-21 Scottish Premiership season kicks off on Sat August 1st and thanks to COVID-19 it is a campaign that will start, for the first and hopefully last time ever, without any supporters being present in any of our stadiums.
Our top flight will begin with 6 games spread across Saturday, Sunday and Monday on that first weekend with fans of every club left watching from home.
Here's our look at what (legal) streaming means for the SPFL, and how you will be able to access and best enjoy your Scottish fitba fix during this closed door period.
Streaming and SKY
As the sole live rights holder for the Scottish Premiership for the next 5 years SKY have had a big say in how the streaming service will work.
First up you can of course watch some games in the "traditional" way through a SKY Sports subscription. On the opening weekend of the season Aberdeen vs Rangers (12:30 Sat), Celtic vs Hamilton (16:30 Sun) and Ross County vs Motherwell (19:45 Mon) are all live on SKY Sports.
So if you have a subscription to SKY (either directly or via Virgin) or you buy a NOW TV Day pass you'll be able to watch those games on your big screen at home as usual, or on your mobile or tablet using SKY Go.
We can assume those games will have the option of watching with piped in noise but it's unclear yet if there is also an option to mute Andy Walker.
In addition fans of HOME clubs will also be able to watch these games via their club streaming platform (more on this to follow) so they do not need to be a SKY subscriber to watch the action.
The number of fans who can watch live SKY games via club streams is capped at the number of season ticket holders a club had last season. This is to protect SKY's rights, so that the number of fans able to watch the game outside of their platform is no more than the number who would have been able to attend and watch it in the stadium in normal circumstances.
You get me?
Stream Digital
All Premiership clubs already had some sort of TV subscription platform prior to this all happening. This usually had two strands. One was the broadcasting of live home games to fans outside of the UK on matchdays and the other was for delivering non-live content to subscribers in the UK like match highlights, interviews and behind the scenes stuff.
Some of those clubs used a platform called Stream Digital to deliver that output and in the brave new world which we are about to enter that platform has grown and will now be used by 11 of the 12 Premiership clubs with only Rangers opting to use a different system.
Stream Digital will offer fans different types of access during the period of games without supporters in stadiums;
Free access to live home games for season ticket holders
This will be accessed via a unique code which will be given out to those fans by their club. This includes games that are being shown on SKY. This will be the case for as long as all fans are not allowed in stadiums so will still operate even if stadiums are operating with limited capacity.
Subscription based access to "club TV" like content
For those who want to watch the "exclusive" club based stuff like what players have for their lunch. This will be optional of course, but everyone who wants to watch this will need to pay for it, I think.
One off subscriptions to individual games
Clubs are able to offer "Pay Per View" access to any home game they are hosting that isn't being broadcast by SKY. This allows traditional "pay at the gate" punters and of course away fans, to access games during the closed door period.
This isn't mandatory though, clubs don't NEED to provide PPV access and it would appear that some won't be. More on this later.
The Club Channels
So here's the links to all 12 Premiership Club channels. A few of these are not officiall live yet and so links might change before kick off but if they do we will be sure to update it. Click on any club badge to visit their club channel website.
Website or App or What?
First of all it's important to note that Stream Digital content is all delivered via a website. There is no "App" so any access to any of the 11 clubs using the Stream Digitial platform will be via the links in the directory above.
With that in mind let's look at the various ways of connecting and watching.
Mobile and Tablet
Probably the simplest way to watch games on the Stream Digital platform is by watching on your mobile or tablet. As long as you have some sort of decent connection to the internet you would just open up the browser on your device, click on the club channel link as per the above list, and then login to your account and click the game you want to watch.
As far as I can see in testing the platform works absolutely fine on pretty much any tablet or smartphone.
Ideal if you are watching alone, or at work or if you are out and about.
Laptop and Desktop
Again very easy. Just open up your favourite web browser (Safari, Chrome, Firefox, Edge - just do me a favour and not internet explorer as it isn't 2005).
Head to the club channel you want to access, login, and click to watch your game.
EASY!
Watching on your Telly
Watching games on your own is fairly bollocks so most of us will no doubt be watching with pals or family and so looking to watch it on a decent sized screen.
There are loads of ways to get the streams on to your telly but you will need to find the one that works best for you. Here's some options, there are;
Smart TV Built In Browser
All SMART TVs come with a built in web browser.
You can try just opening that up and typing in the address of your club channel and seeing if it works. I tried this on an LG TV here using the Motherwell channel as an example and it didn't work. The screen didn't load properly and I was left with this;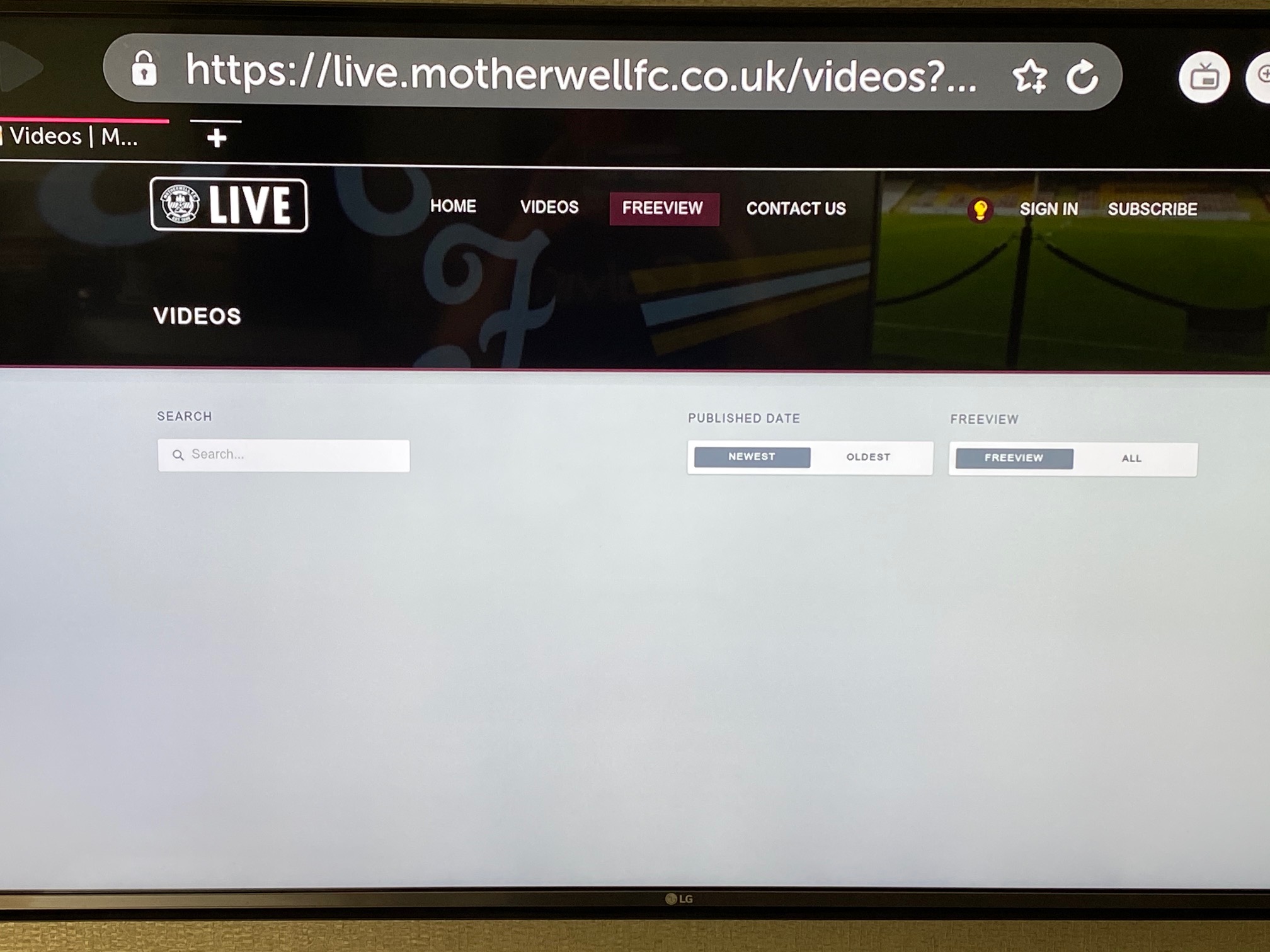 It goes without saying that if you want to use this method you should test it well in advance of kick off to make sure it works on your set. Stream Digital have already responded to some fans who had difficulty watching the Rangers vs Motherwell friendly last night saying they don't support Smart TV Browsers, becuase there are too many variations.
Some SMART TV Browsers will work, some won't. Test yours!
Amazon Fire Stick
An Amazon Fire Stick converts almost any TV into a SMART TV. It plugs into an HDMI port on your set and you can then run applications on the stick (like Netflix, iPlayer and the like). It also comes with web browsers like Firefox and Amazon Silk that you can download and enable for free in just a couple of minutes.
The Stream Digital service works really well on these browsers and runs in full screen.
A fire stick is £40 for the standard edition or £50 for a 4K version. Both will work absolutely fine and it is a great buy if you don't already have one.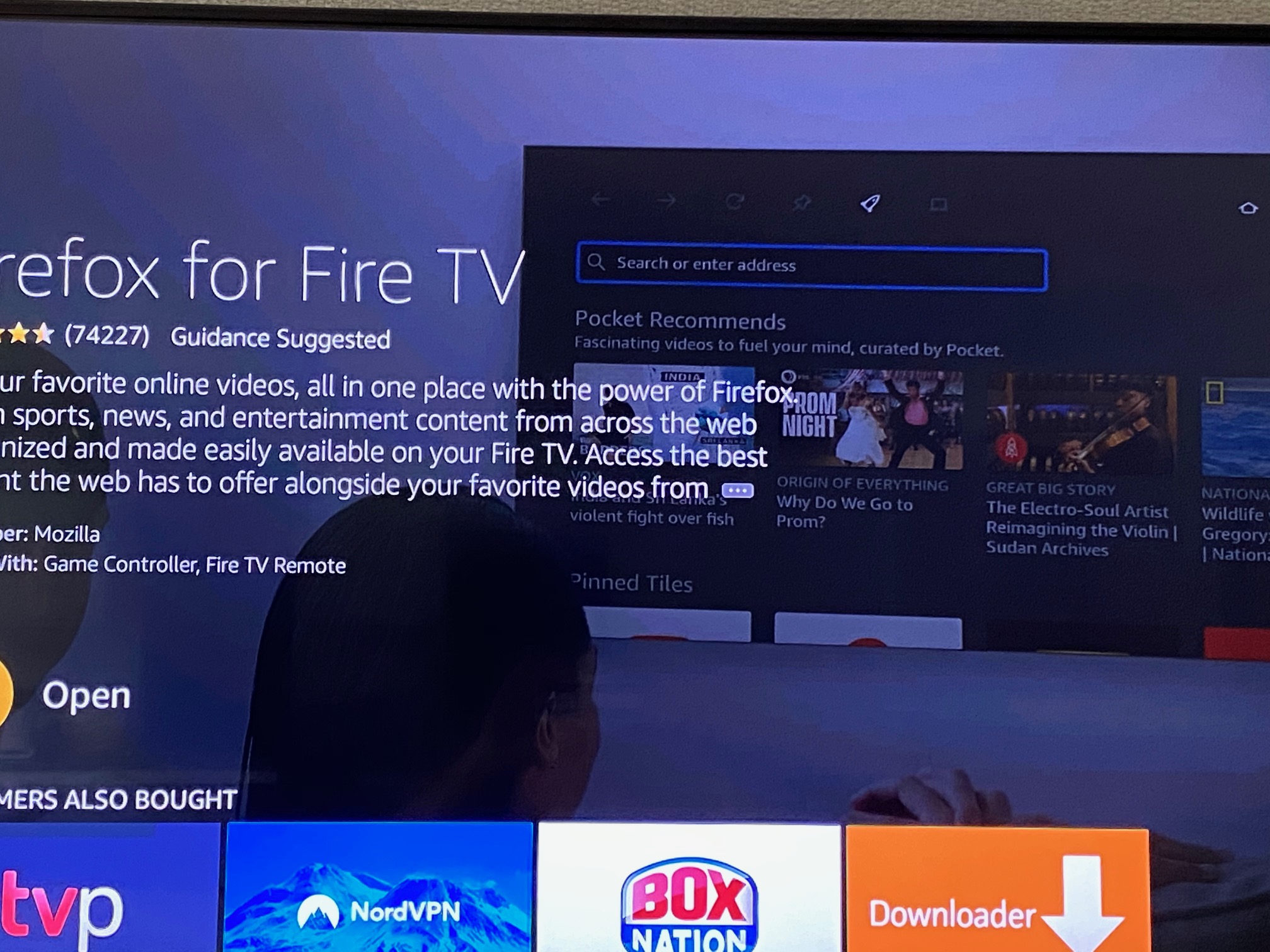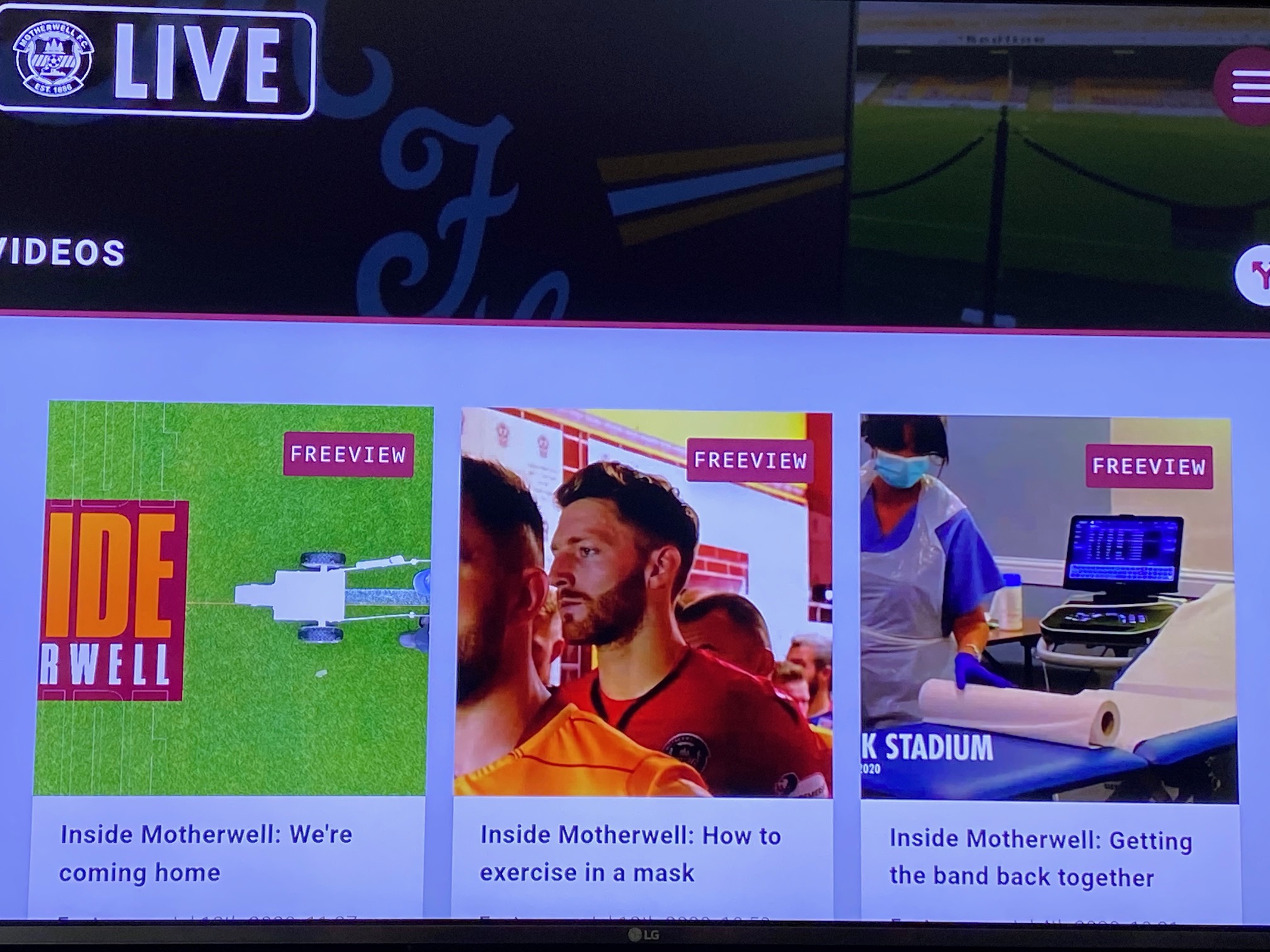 Laptop to TV
You can of course connect your laptop (or desktop if it's nearby) to your TV using an HDMI cable. So in this scenario all you'd do is run the web browser on your laptop or desktop, log in to the club channel as usual then connect the HDMI OUT port on your laptop to an HDMI IN port on your TV.
You'd then switch the HDMI source of your TV to point to the port you've plugged the computer into, and then in Windows you would choose to either extend or duplicate your display by right clicking your desktop and choosing Display Properties.
Mac users will be able to do similar using extended desktop mode which is set in Displays under System Preferences.
This is getting into the realms of the more advanced user. If you're a technophobe then this may be beyond you :-)
If you've a modern laptop and a decent TV you will also be able to wirelessly cast from your laptop to the TV screen.
Tablet or Phone to TV
If you have a cable that connects from your tablet or phone to your TV HDMI port then you will be able to mirror what's on the device screen to your TV display.
If your TV is pretty modern you'll be able to mirror without wires using Airplay or Miracast (or Chromecast as below).
Chromecast
I haven't been able to test sending the picture from a laptop to a TV display equipped with a Chomecast device but I gather from what I read on twitter last night that this is possible.
If you have a Chromecast connected to your TV then you should be able to cast from your mobile or tablet browser to that Chromecast device and mirror your display without wires.
IPTV
I know some folk will be reading all this screaming "IPTV IS THE WAY TO GO MAN, ALL CHANNELS FOR £5 A MONTH".
Yes, you will almost certainly be able to watch any Premiership game you like for a few quid on an IPTV stream. I'm not going into that here so bolt!
Pay Per View
Clubs are able to over Pay Per View access to any games that are NOT being shown live on SKY.
This option allows home fans to purchase access on a game by game basis and of course opens up access to away supporters.
If you want to watch an away game and you live in the UK (and you want to watch it legally) you'll need to buy the PPV ticket from the HOME team, just as if you were paying the home team for a ticket at the gate.
Sadly it looks like not all clubs will be offering PPV access to their games and some will pick and choose which games to provide. Similarly the pricing for games varies significantly across the league.
Here's the current situation by club at the time of writing (updated 6th August);
| | | |
| --- | --- | --- |
| Club | PPV Option Available? | Price per Game |
| Aberdeen | Yes | £12.99 |
| Celtic | Not yet - I'd say unlikely | Unknown |
| Dundee Utd | Yes | £12.50 |
| Hamilton  | Yes | £15.00 |
| Hibernian | Yes - but only some games | £15.00 |
| Kilmarnock | Yes | £12.50 |
| Livingston | Yes | £20.00 |
| Motherwell | Yes | £12.00 |
| Rangers | Yes | £9.99 |
| Ross County | Yes | £15.00 |
| St.Johnstone | Yes | £17.50 |
| St.Mirren | Yes | £12.50 |
In Summary
The above is a load of waffle really but I thought it might help someone based on what I've seen on twitter in the last couple of days.
The main thing is to TEST your setup well in advance of kick off on August 1st. Run a freeview video on any of the 11 Stream Digital club channels and make sure it works and streams without any glitches.
Then pray that Stream Digital can handle the amount of traffic it's going to get hit with on the opening weekend of the season.
HWFG!