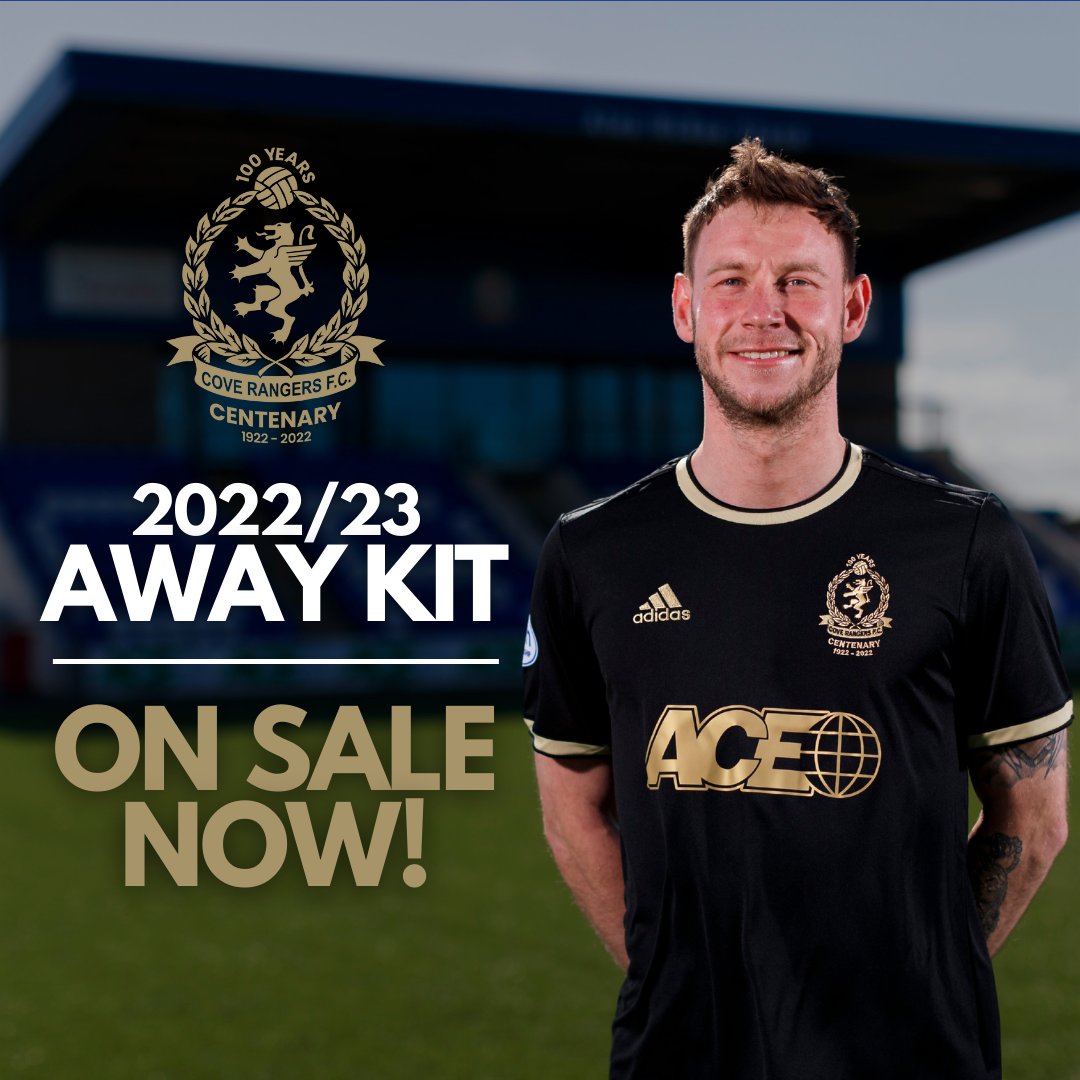 🆕 𝗢𝗡 𝗦𝗔𝗟𝗘 𝗡𝗢𝗪! Our new away kit for the 2022/23 season is now available to purchase! Shop online 👉
bit.ly/3nBQV1D
📸 𝗜𝗻 𝗣𝗶𝗰𝘁𝘂𝗿𝗲𝘀 | Cove Rangers vs Gala Fairydean Rovers Check out the full gallery from Saturday's 8-1 victory over Gala Fairydean Rovers here 👇
🔵 "𝙀𝙫𝙚𝙧𝙮𝙗𝙤𝙙𝙮 𝙬𝙖𝙨 𝙖𝙩 𝙞𝙩 𝙖𝙣𝙙 𝙡𝙤𝙤𝙠𝙚𝙙 𝙖𝙨 𝙞𝙛 𝙩𝙝𝙚𝙮 𝙧𝙚𝙖𝙡𝙡𝙮 𝙚𝙣𝙟𝙤𝙮𝙚𝙙 𝙩𝙝𝙚 𝙜𝙖𝙢𝙚." Manager Jim McIntyre shared his thoughts following our 8-1 victory over Gala Fairydean Rovers yesterday afternoon Read what the gaffer had to say here 👇
📝 𝗠𝗮𝘁𝗰𝗵 𝗥𝗲𝗽𝗼𝗿𝘁 | 𝗖𝗼𝘃𝗲 𝗥𝗮𝗻𝗴𝗲𝗿𝘀 𝟴-𝟭 𝗚𝗮𝗹𝗮 𝗙𝗮𝗶𝗿𝘆𝗱𝗲𝗮𝗻 𝗥𝗼𝘃𝗲𝗿𝘀 The build-up to our first season competing at Championship level continued with a comprehensive victory over Lowland League opponents Gala Fairydean Rovers Read the report 👇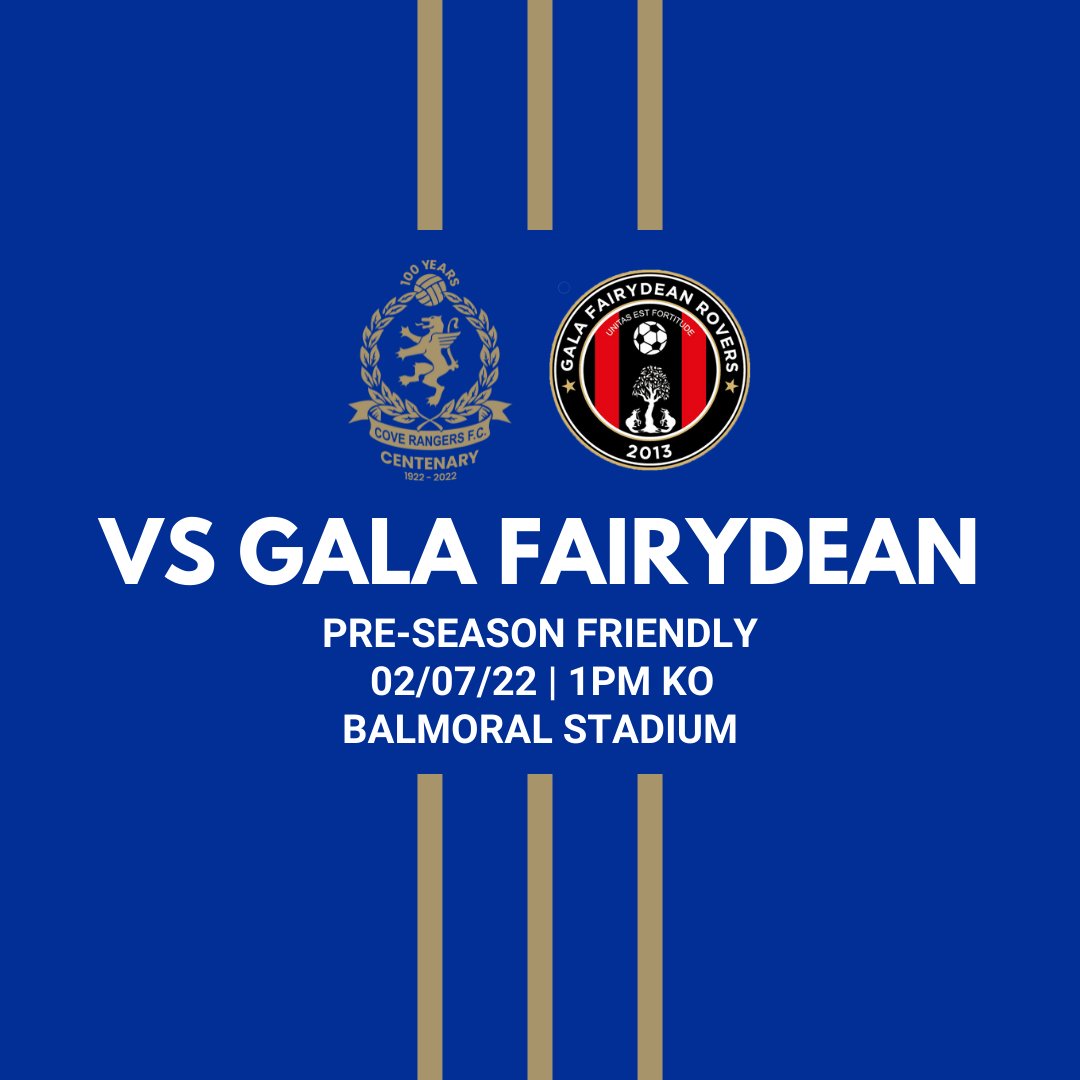 🔵 𝙈 𝘼 𝙏 𝘾 𝙃 𝘿 𝘼 𝙔 🔵 Preparations for the new campaign continue today as we host
@fairydeanrovers
in a pre-season friendly (1pm KO) 🎟️ Tickets cost just £10 for adults/£5 for concessions - Purchase from the Ticket Office or online here 👉
bit.ly/3R0HXs9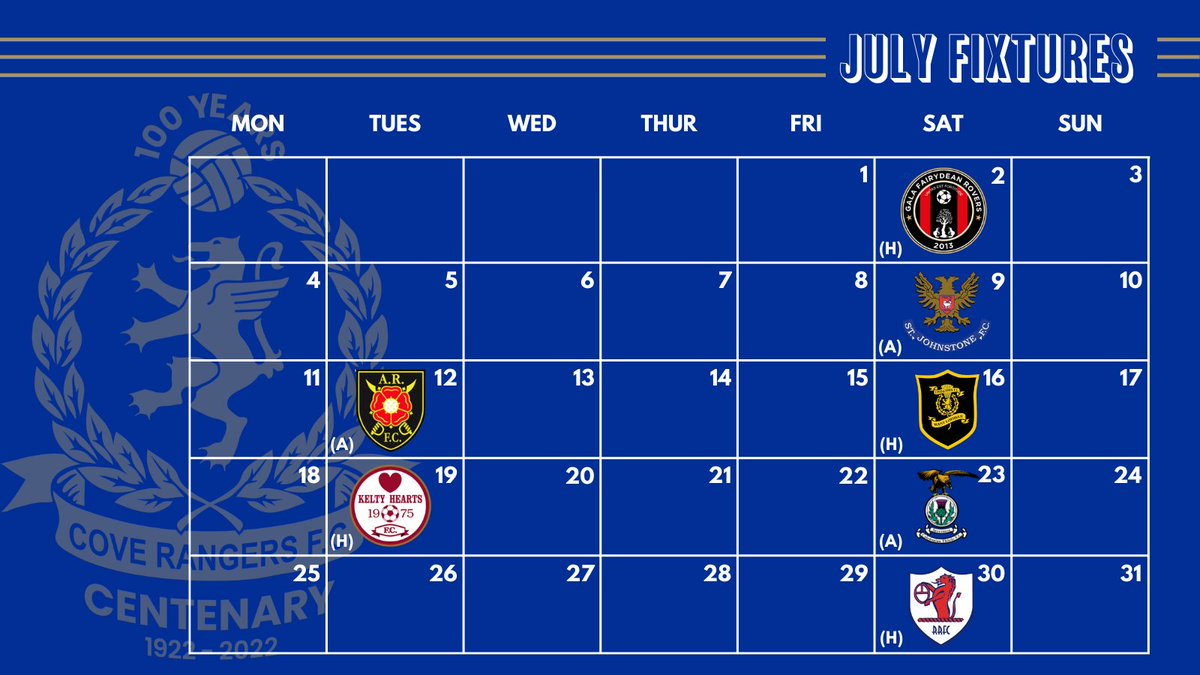 📅 𝙅𝙐𝙇𝙔 𝙁𝙄𝙓𝙏𝙐𝙍𝙀𝙎 We kick-off a busy month of fixtures tomorrow afternoon at 1pm, as we take on Gala Fairydean in a pre-season friendly at Balmoral Stadium // Tickets can be bought here 👉
bit.ly/3R0HXs9
#CRFC
🗣️ "There are no friendlies when you have a new manager to impress." Morgyn Neill says he's treating tomorrow's friendly clash with Gala Fairydean Rovers in the same manner as he will any of the Championship matches he hopes to play in during the coming season. Read here 👇
✍️ We are delighted to confirm the signing of former Nottingham Forest, Barnsley, and Halifax Town striker Gerry McDonagh The 24-year-old Englishman has agreed a one year deal and joined the squad for training this week Welcome,
@GerryMcDonagh64
🤝
💬 "The players returning from their summer break in great shape has been a huge help" We caught up with the manager who gave us his thoughts on pre-season so far 👇
🎟️ 𝗧𝗶𝗰𝗸𝗲𝘁 𝗗𝗲𝘁𝗮𝗶𝗹𝘀 | 𝗚𝗮𝗹𝗮 𝗙𝗮𝗶𝗿𝘆𝗱𝗲𝗮𝗻 𝗥𝗼𝘃𝗲𝗿𝘀 Fans are reminded that tickets are now on sale for Saturday's pre-season friendly versus
@fairydeanrovers
More information can be found here 👇
💬 "I would like to say thank you to everyone who contributed." Stuart McKenzie has paid tribute to the fans who turned out for his testimonial match against Dunfermline, as well as the friends and family who have supported him throughout his year of celebrations 👇
Our number 1️⃣ spoke to the media following a memorable afternoon at Balmoral Stadium Listen in full on the Cove Rangers YouTube channel 👇
📸 𝗠𝗮𝘁𝗰𝗵 𝗚𝗮𝗹𝗹𝗲𝗿𝘆 Check out our full gallery of Stuart McKenzie's Testimonial match over on the CRFC website 👇
📝 𝗠𝗮𝘁𝗰𝗵 𝗥𝗲𝗽𝗼𝗿𝘁 | 𝗖𝗼𝘃𝗲 𝗥𝗮𝗻𝗴𝗲𝗿𝘀 𝟬-𝟮 𝗗𝘂𝗻𝗳𝗲𝗿𝗺𝗹𝗶𝗻𝗲 Read the full report from Stuart McKenzie's Testimonial match here 👇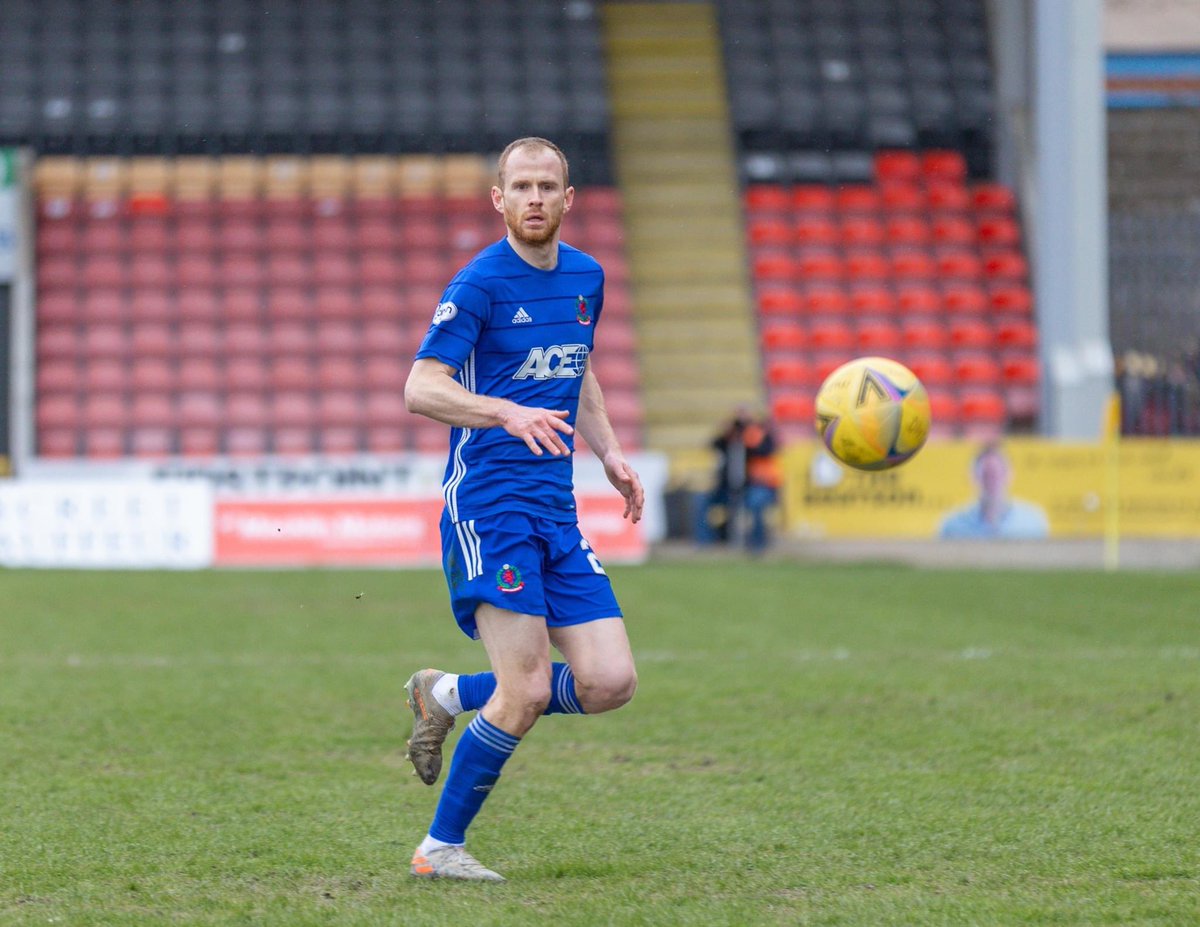 🔵 Mark Reynolds is confident the Cove Rangers fans will ensure Stuart McKenzie has a day to remember against Dunfermline in the long serving goalkeeper's Testimonial Match Read in full 👉
bit.ly/3HT9RCh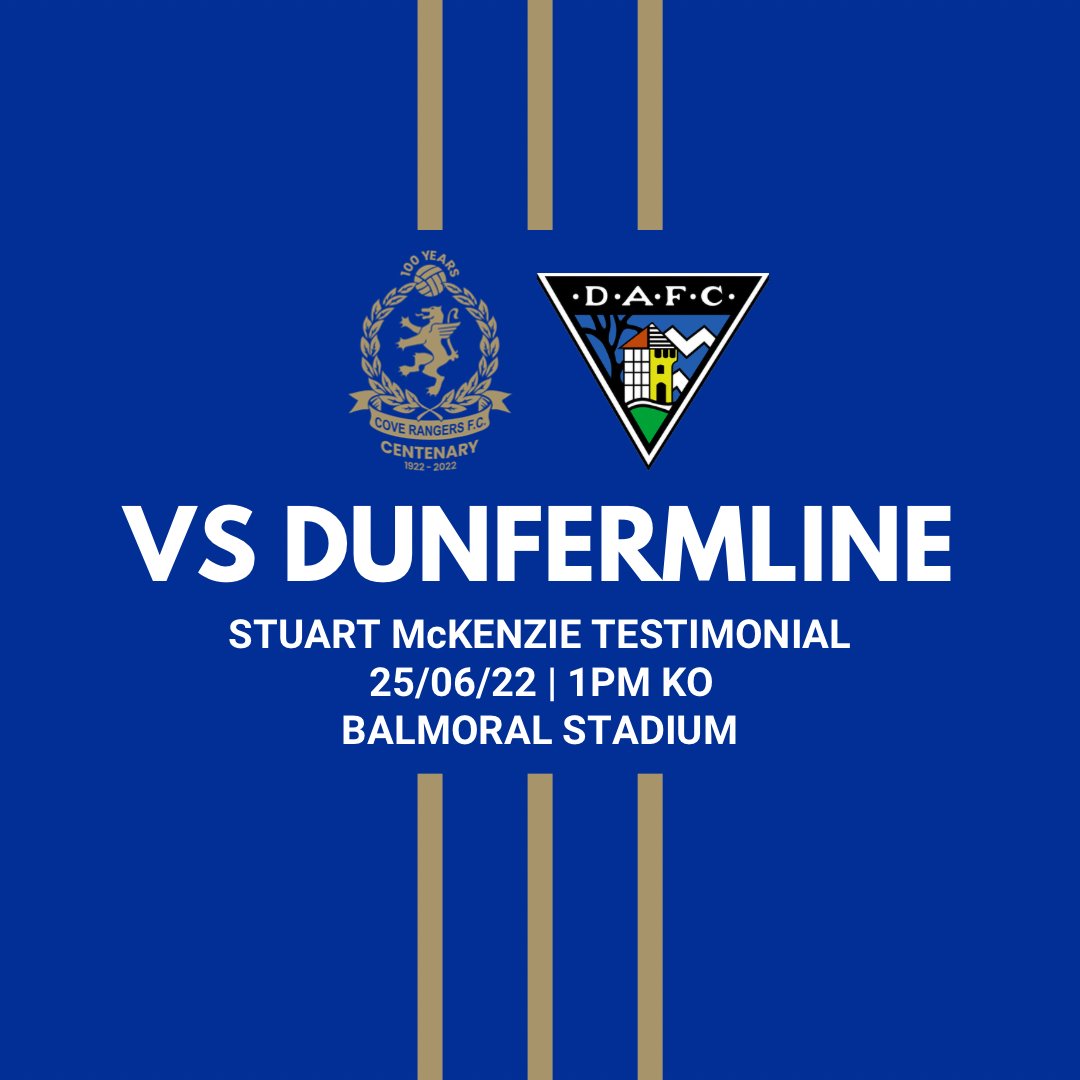 🔵 𝙈 𝘼 𝙏 𝘾 𝙃 𝘿 𝘼 𝙔 🔵 This afternoon, we host
@officialdafc
in Stuart McKenzie's Testimonial Match! Tickets cost just £10 for adults and £5 for concessions // Purchase yours from the Ticket Office or online here 👉
bit.ly/3HOt7kt
𝗗𝘂𝗻𝗳𝗲𝗿𝗺𝗹𝗶𝗻𝗲 𝗣𝗿𝗲𝘃𝗶𝗲𝘄 | 𝗧𝗵𝗲 𝗠𝗮𝗻𝗮𝗴𝗲𝗿 Jim McIntyre is looking forward to his first game in charge when we face Dunfermline Athletic in Stuart McKenzie's Testimonial at Balmoral Stadium tomorrow
🆕 Rory McAllister is relishing the opportunity to pay tribute to Stuart McKenzie when we take on
@officialdafc
in the legendary goalkeeper's Testimonial Match this Saturday
🗣️ "It is is an honour to get this opportunity to pay tribute to Stuart" Club captain Mitch Megginson is delighted long serving goalkeeper Stuart McKenzie will be honoured with a Testimonial Match against Dunfermline Athletic later this week Read in full 👇
𝑻𝒉𝒆 𝒃𝒐𝒚𝒔 𝒂𝒓𝒆 🔙 𝒊𝒏 𝒕𝒐𝒘𝒏 New manager Jim McIntyre got his eagerly anticipated chance to work with the players when he took charge of his first training session at Balmoral Stadium
🎟️ Tickets are now on general sale for our three pre-season friendly matches at Balmoral Stadium! For more information 👉
bit.ly/3xKYkjE
Get your ticket online 👇
🍸 As part of our centenary celebrations, we have teamed up with Aberdeenshire distillery
@HouseOfElrick
to create a special collaborative gin made using the finest botanicals. Available to buy online now at
bit.ly/3HBvabs
, or alternatively from Balmoral Stadium!
🔵 Cove Rangers can confirm that goalkeeper Balint Demus is joining Buckie Thistle on loan for the 2022/23 season. All the best, Balint! 🤝
🎟️ 𝙅𝙤𝙞𝙣 𝙞𝙣 𝙤𝙣 𝙩𝙝𝙚 𝘾𝙝𝙖𝙢𝙥𝙞𝙤𝙣𝙨𝙝𝙞𝙥 𝘼𝙙𝙫𝙚𝙣𝙩𝙪𝙧𝙚 Season Tickets for the 2022/23 campaign are now on general sale! Find out more 👇
✋ 𝙁𝙄𝙍𝙎𝙏 𝙁𝙄𝙑𝙀 Here's our opening 5️⃣ matches of the 2022/23 cinch Championship campaign!
#CRFC
|
#cinchChamp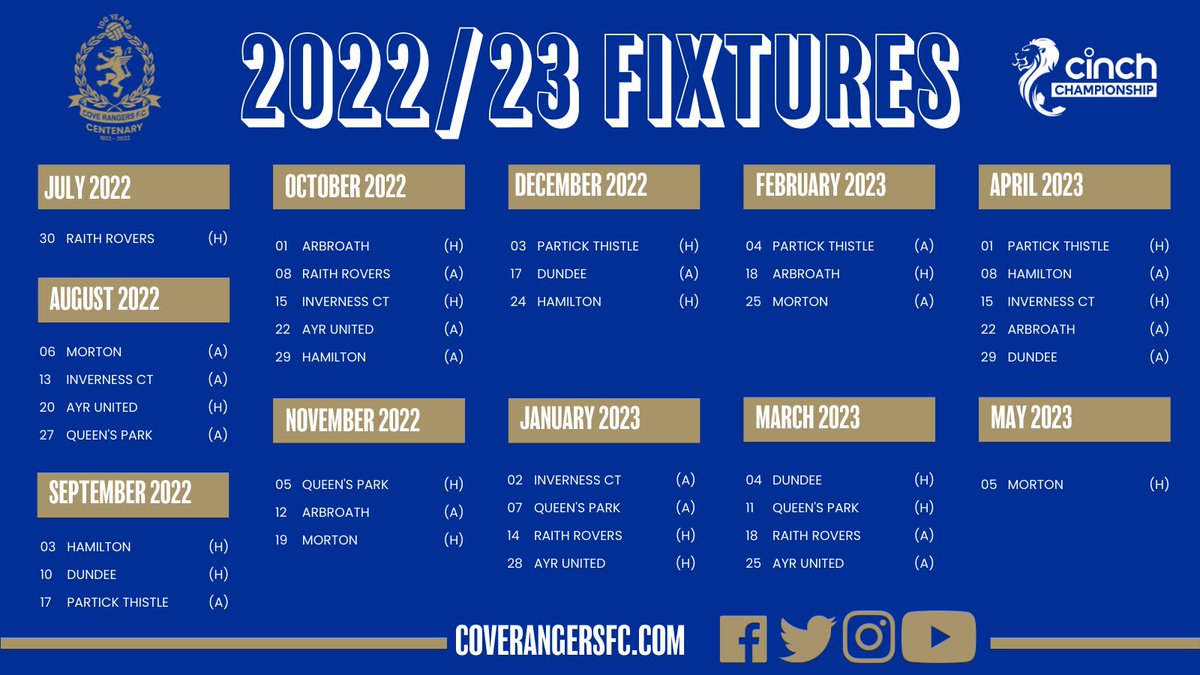 📅 Our 2022/23 cinch Championship fixtures are here! We will play Raith Rovers at Balmoral Stadium in our first match! 🔗
bit.ly/3HuiyTu
🔵 Jim McIntyre will take charge of Cove Rangers for the first time on Saturday, June 25th, as we take on Dunfermline in Stuart McKenzie's Testimonial match! Ticket details for this match, and our two other pre-season friendlies at Balmoral Stadium, can be found online 👇
💬 "Jim has won a league and the League Cup before as a manager and it's great to have someone with that sort of experience leading us." Club captain Mitch Megginson is excited by the prospect of playing under new manager Jim McIntyre. Read in full 👇