Latest @pieandbov
Pie and Bovril
3 Days ago
That is just ridiculous. What a fucking player.
3 Days ago
What a game this has been and WHAT a hit that was 👏👏👏
3 Days ago
That's fucking brilliant. Spain go route 1 for the first time ever and score 😂
3 Days ago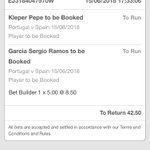 Twitter Mashup
A quick glimpse at what's happening in the Scottish Premiership and Scottish Championship on Twitter today. Click the link at the bottom to load more stories. This feed updates all day every day.